Day In The Life
Courageous Recovery in action – step into a day in the life as a Driftwood Recovery resident.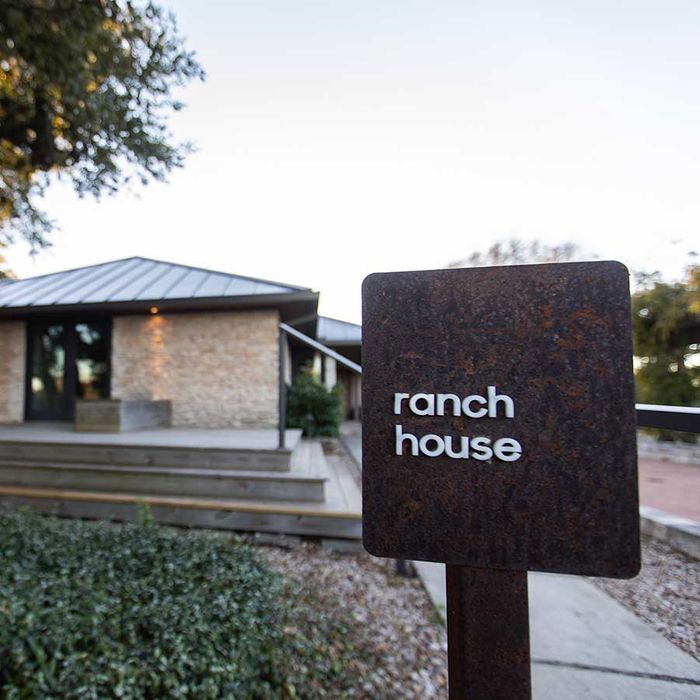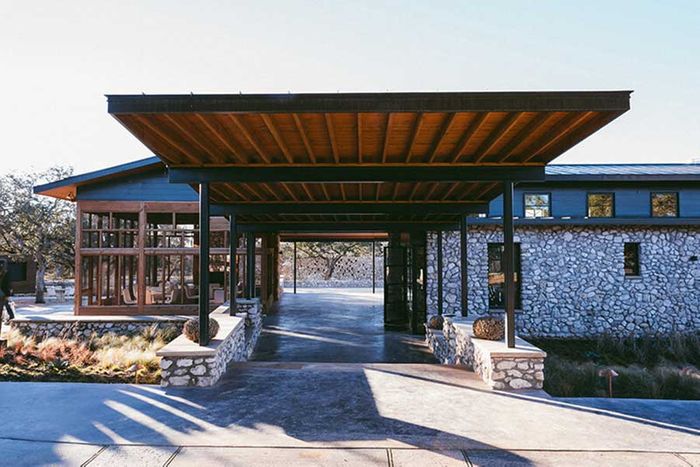 Every resident begins their Driftwood journey with the intake process conducted by our Nursing and Admissions staff.
These staff members ensure your safety and wellbeing as you get acquainted with the Driftwood campus and the team members that will provide support during your time with us. We want you to feel welcome, comfortable, and confident in the care you will receive while at Driftwood.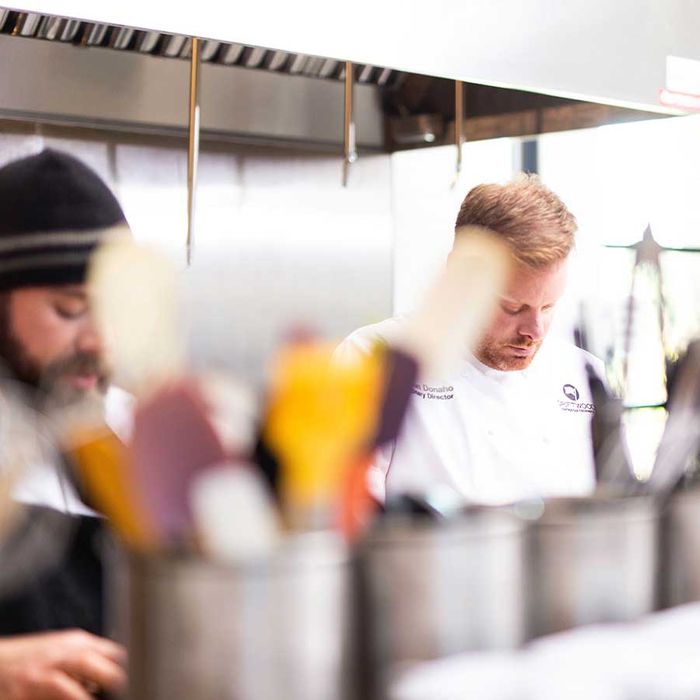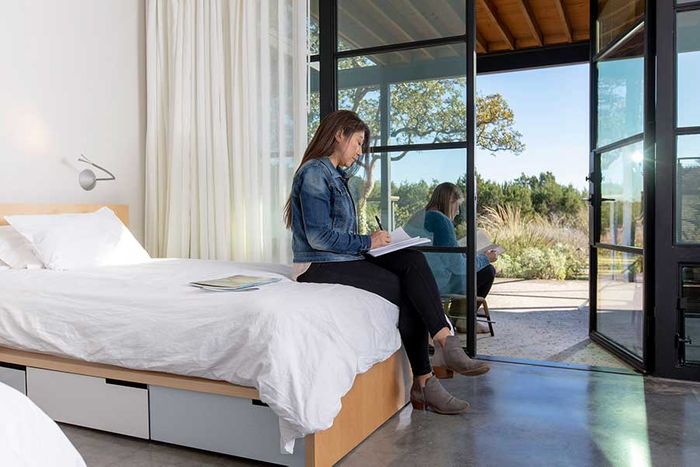 Establishing a morning routine can become an essential part to recovery.
Life is lived in the details, and while recovery may initially seem to be about sweeping changes, it is really the small, every day routines that help build a recovery lifestyle. Establishing a morning routine can become an essential part to recovery and this daily practice is a great way to set the tone for the day. The serene Texas hill country lends the perfect backdrop to help start the morning grounded and prepared to show up for the day.
Residents begin the day by organizing their personal living space, meditating, enjoying a nutritious meal together, and taking time to enjoy the beautiful Driftwood campus. Staff and residents then join together for Morning Reflection where everyone takes a moment to reflect and process their emotional and physical state, followed by setting an intention for the day.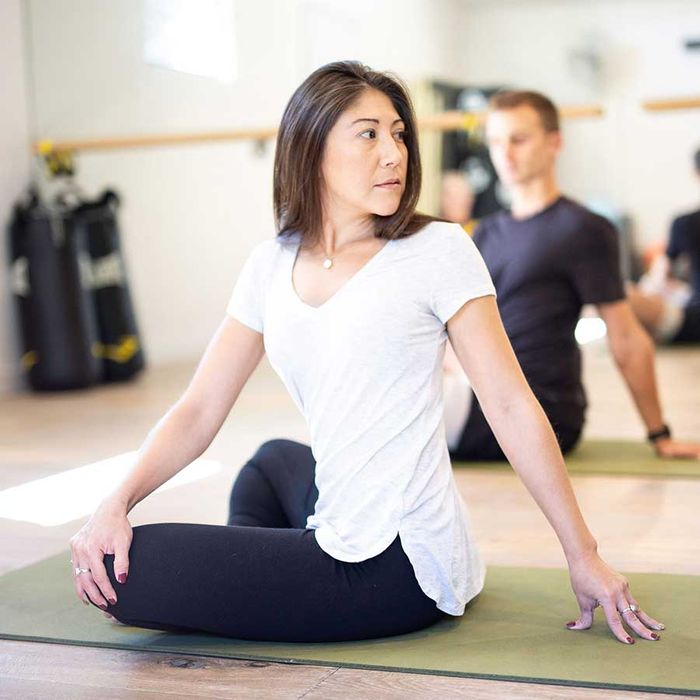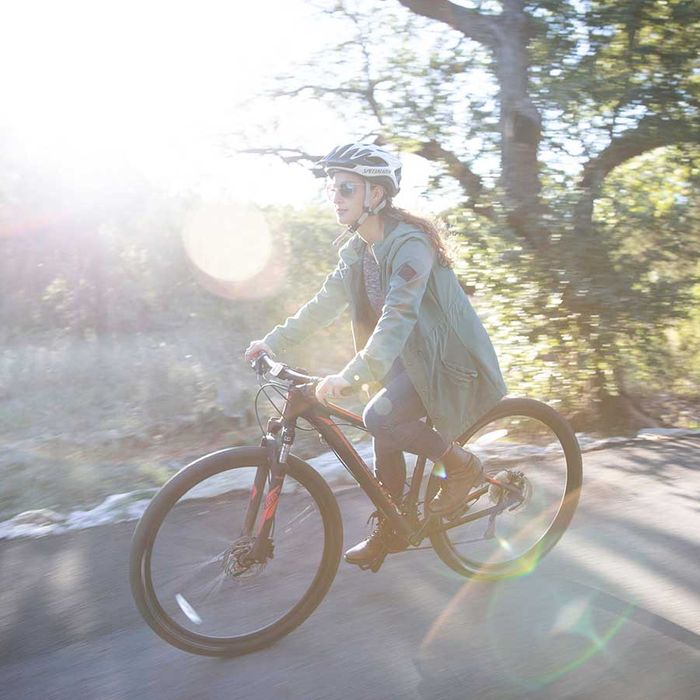 Taking the time to get the body moving creates a moment to recharge and reconnect with our physical experience.
Recovery is about developing a new outlook on life and creating a healthier lifestyle. Getting active, no matter your skill level, helps the body heal and is a catalyst for making healthy decisions moving forward. The Wellness team creates fitness plans for each Driftwood resident based on their physical abilities and the goals they want to achieve. The Wellness Center is a welcoming, non-clinical space equipped to accommodate varying levels of fitness and numerous methods of exercise.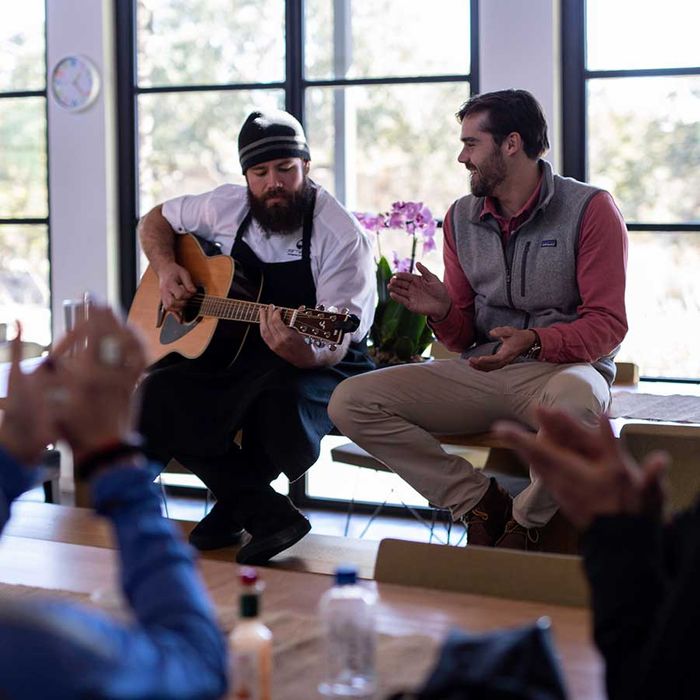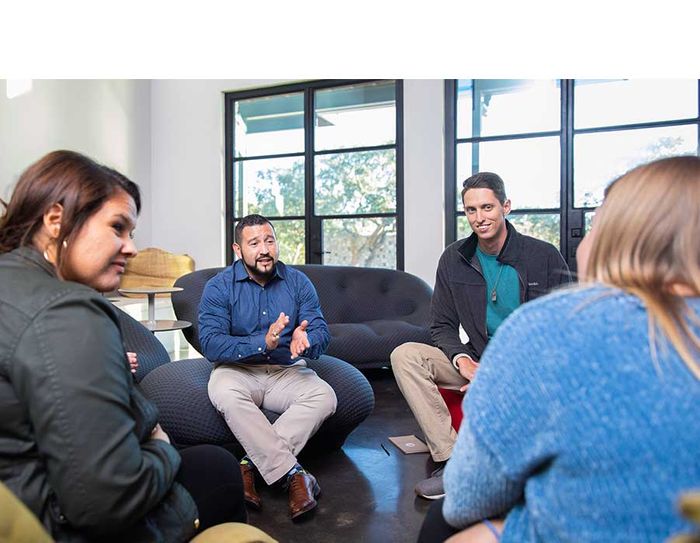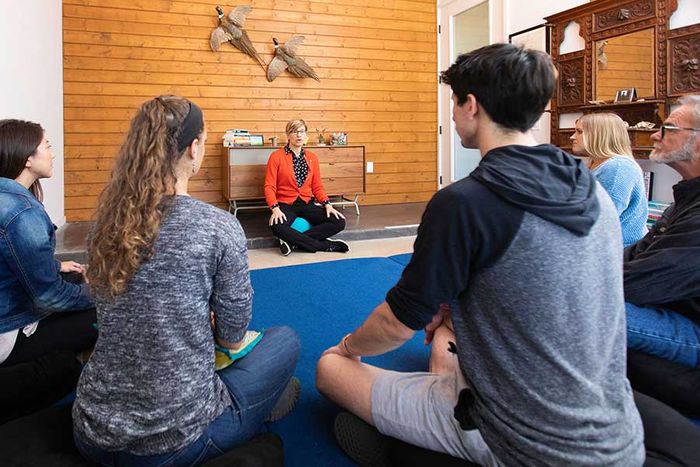 The majority of the day is spent participating in both group and individual clinical programming.
Our clinical approaches are designed to help residents develop skills, gain insight, and feel supported in their journey to be known, understood, and accepted. Residents participate in Skills-based groups, Process Groups, Educational Groups, and Individual sessions and Assessments with Primary Therapists. To help break up the day of programming, residents and staff join together in the dining hall for a healthy meal prepared by the culinary team. Everyone enjoys this time to collaborate and connect as an opportunity to approach each other as equals and help each other grow as human beings.
Something that makes Driftwood special and unique is our ability to deliver a psychologically sophisticated treatment experience in the context of a community that feels compassionate, caring, and supportive as people move through a very difficult time in their lives.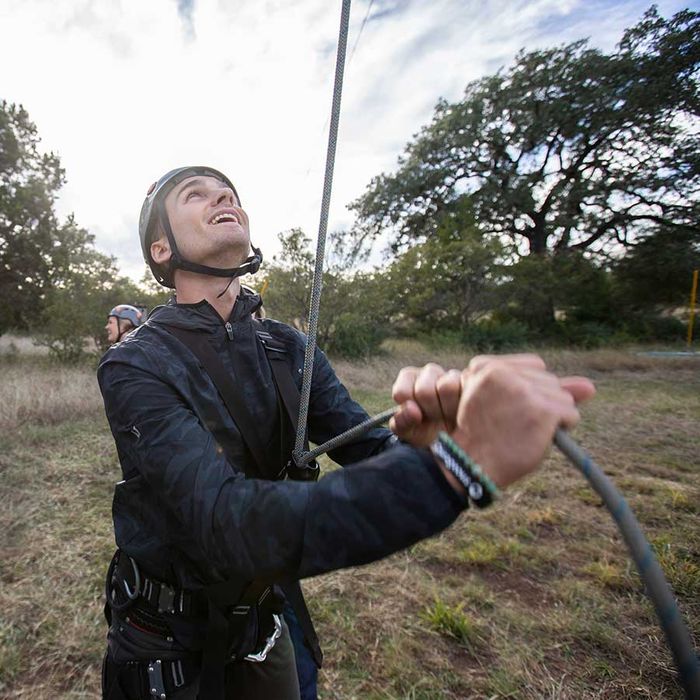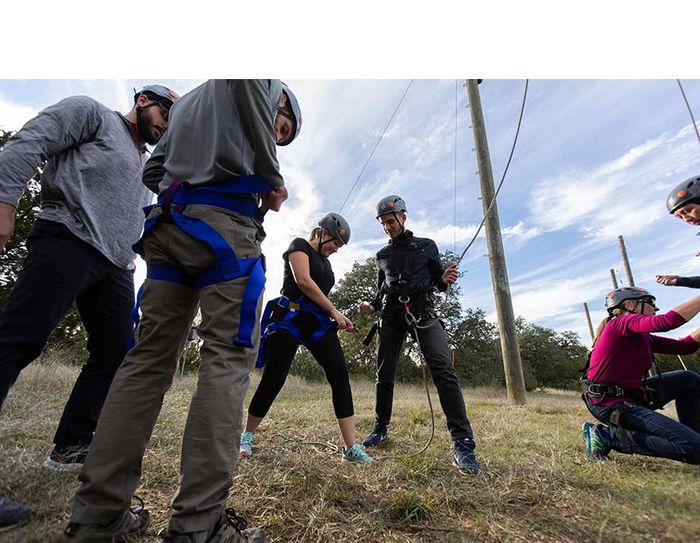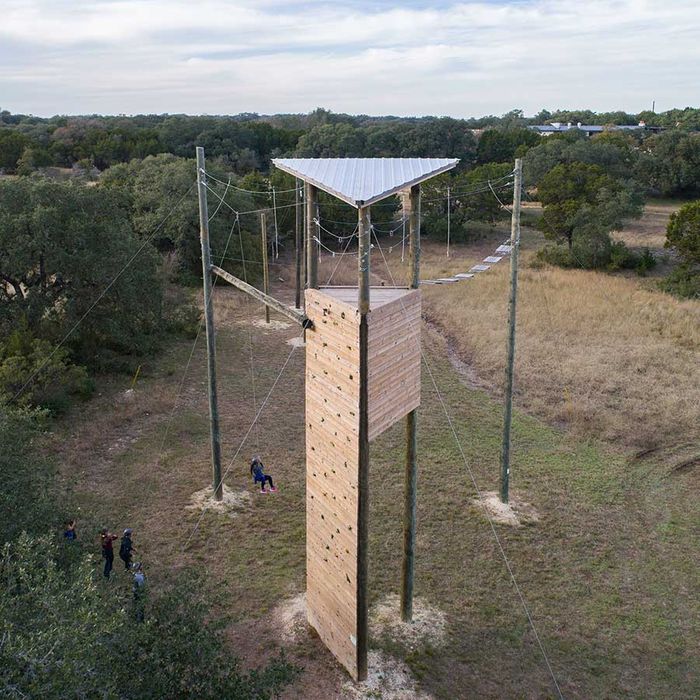 When the words run out, focusing on experience provides insight into behaviors or encounters that won't pop up in a traditional therapeutic setting.
Twice a week, residents participate in group experiential therapy either offsite or on our Driftwood campus. Our onsite high and low-ropes courses are one outlet where residents are challenged to overcome fears and work effectively as a team. By participating in activities that encourage them to prioritize fun, time in nature, and physical exercise in their recovery lifestyle, residents develop new insights and challenge what they previously thought were their limits.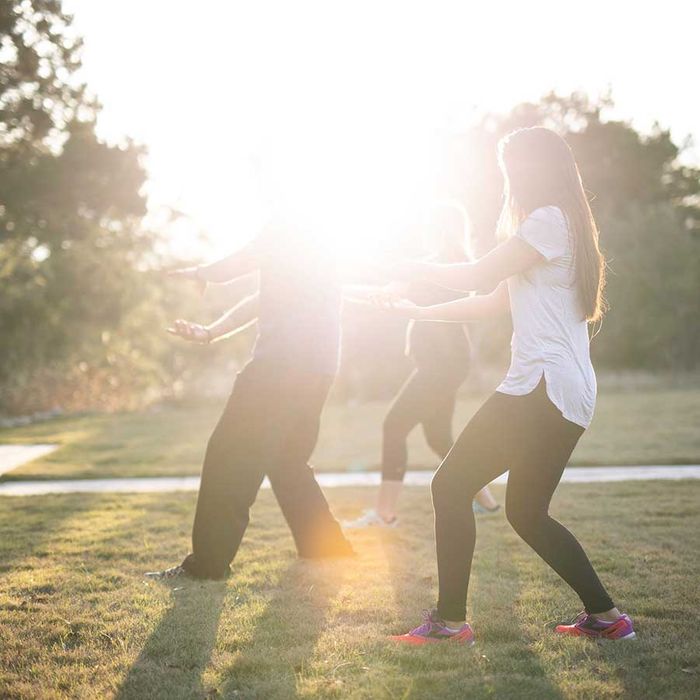 As the day winds down, residents enjoy the final meal of the day together and prepare for an evening of creative expression, study, phone time with loved ones, step work and recovery meetings.
By participating in peer-driven recovery meetings, residents gain knowledge of what recovery is like outside of the Driftwood gates. This time together is the final group of the day before returning to the serene Driftwood campus for a nightly wrap up prior to retiring to their residential quarters. Each day at Driftwood brings new challenges, new growth, and an opportunity to witness recovery come to life.

Break the cycle of suffering through surrender.
Contact Driftwood Recovery today to get more information or schedule a tour.