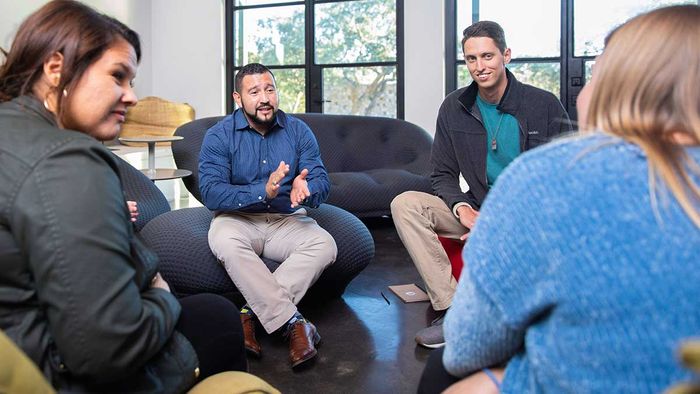 Driftwood's approach is founded on an attachment-based, sanctuary-informed model.
This means that an individual's healing begins when they can address the traumatic experience of addiction, mental illness, or chronic pain and rebuild a connection to self and others. The Driftwood experience involves top-notch clinical care from a team of therapists and medical professionals with decades of experience in the field of mental health, substance abuse, and chronic pain. Individual and group therapies, experiential therapy, milieu therapy, and connection to a community of peers in recovery builds a strong foundation to sustain a life free of addictive substances. The healthy attachment that an individual can foster to self and others through the treatment process helps them turn clinical insight into action.
Attachment is at the core of Driftwood's treatment approach. Without attachment, one cannot explore difficult issues or be receptive to important feedback. Without taking an honest look at oneself, an individual cannot grow and change. Addiction, chronic pain, and mental health issues can lead us to lose sight of our values, how to take care of ourselves, and how we treat others. Driftwood's clinical approach prioritizes building an attachment in order to bring these issues to light in a transparent, compassionate way. A 4-pronged approach to clinical care takes place:
Evidence-based coping skills:
Dialectical Behavioral Therapy, Acceptance and Commitment Therapy, and Mentalization-based Therapy offer tools to help individuals take a nonjudgmental stance toward themselves and others, manage difficult emotions, increase positive emotions, take committed action toward values, and communicate effectively and empathically in relationships.
Insight-oriented therapies:
Individual therapy, group therapy, and family therapy help individuals develop insight into their world view, relationship patterns, personality style, and strengths. Insight gained from these therapies is used to inform new skills to practice in relationships.
Experiential Therapies:
Group activities in nature and real-world settings present bountiful opportunities to practice new skills and have fun in recovery.
12-Step Education and Engagement:
Learning about the principles behind the 12 steps, developing one's own personal definition of spirituality, and engaging with a sponsor and recovery community daily begins the practice of working through resentments and recognizing that one has support in this journey.
Mental Health Disorders and Chronic Pain Conditions we treat

Break the cycle of suffering through surrender.
Contact Driftwood Recovery today to get more information or schedule a tour.